WHAT'S IN YOUR PSYCHIC TOOL BOX?
Do you suspect─or know─that . . .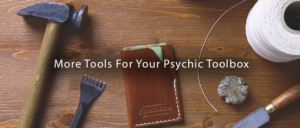 you have an intuitive and/or a psychic ability?   Perhaps you are afraid of it?  In my workshops, I ensure a safe, intimate environment where participants can explore, through fun and fascinating exercizes, how to clear their mental and emotional blocks to their inherent knowingness. When you understand how your consciousness works, you can trust more and worry less. Discover what your intuitive "style" is, strengthen your ability to discern what is true and what isn't,  and unleash your intuitive intelligence.  You can know, without knowing!
JOIN
NATASHA J. ROSEWOOD
in a
PSYCHIC DEVELOPMENT WORKSHOP
DATE: SATURDAY, JUNE 30, 2018
TIME: 10.00 AM – 4.30 PM
Location: Kelowna (Address provided on registration.)
Cost: $159.00
TO REGISTER: To reserve your spot, full payment is required.
E-mail: natasha@natasharosewood.com or call/text 1 (778) 558 2832
Payment: Credit card, e-m transfer.
Offerings: Vegetarian lunch, beverages and snacks. Intimate, safe environment.
778 558 2832 * natasha@natasharosewood.com * natasharosewood.com